Airmid
You can now book and cancel appointments via the Airmid App or SystmOnline. Booking them online for routine problems is a much easier way to manage your appointments without the need to phone the surgery.
Airmid is designed to bring benefit to clinician and patient alike. The seamless integration between the GP record and Airmid brings every patient closer to their care team.
Patients have the advantage of utilising either existing SystmOnline credentials or NHS login to sign in securely.
Once signed up, every patient can manage their own care and engage with their care team. From viewing the record to requesting repeat medication and linking to wearable devices - Airmid is the app for every healthcare need.
The Airmid App also supports Online Consultations.
Download the Airmid App now on the App Store or Google Play by clicking the links below.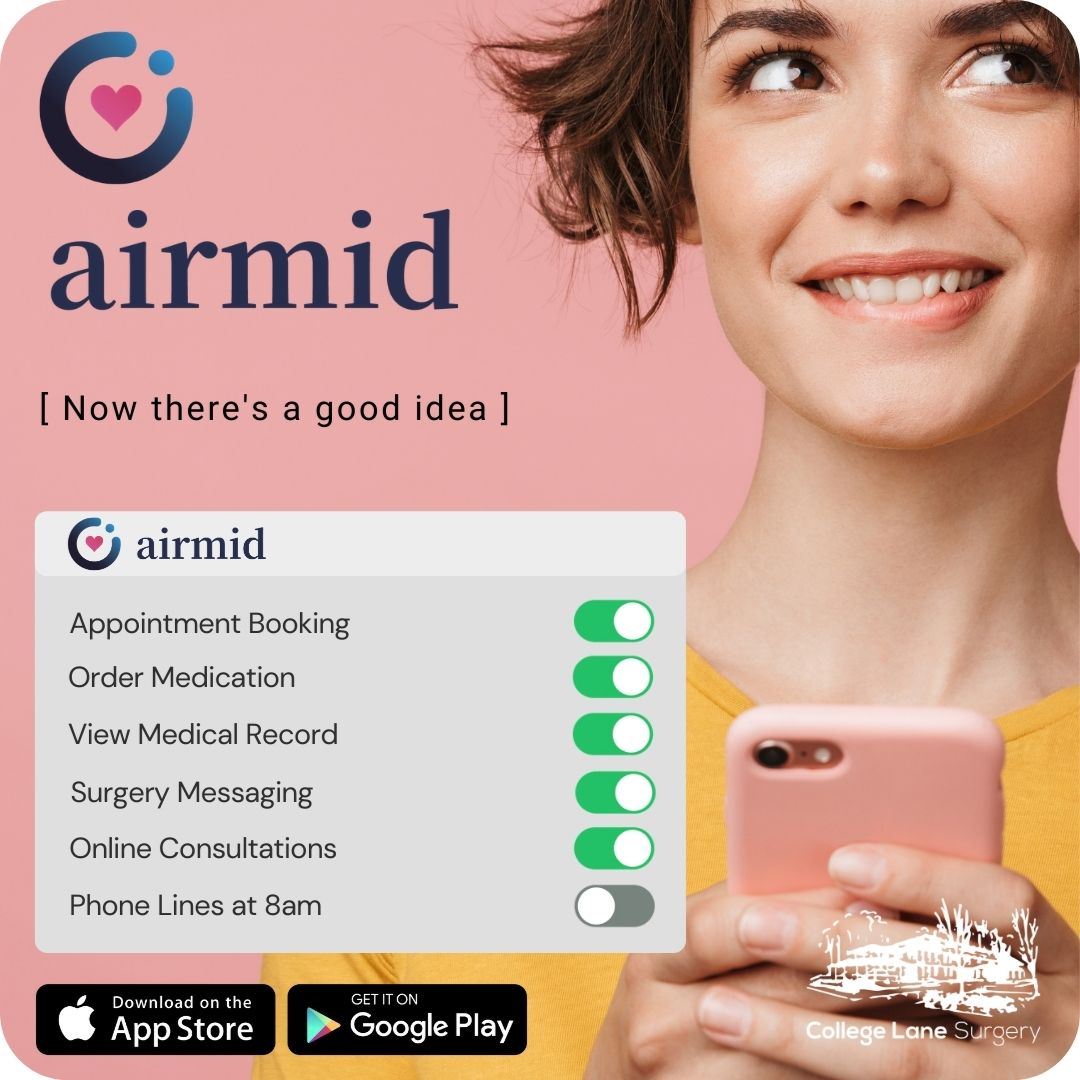 Appointments System
You can book routine appointments online or via the Airmid or NHS Apps. To make an appointment by telephone please call 01977 611023 or visit reception at College Lane Surgery. A number of GP appointments are bookable in advance but most are released daily at 08:00.
Appointments with the Practice Nurse or other specialist services are bookable further in advance.
Emergencies
When we are open, there is always a doctor on call who can be contacted. When we are closed, your call will be redirected to the out of hours service; please telephone the surgery on 01977 611023 and your call will be re-directed or you can dial 111.
Home Visits
Whilst we encourage our patients to come to the surgery, where we have the proper equipment and facilities available, we do appreciate this is not always possible. If you do need a home visit, you can help us by calling reception before 10:00.
You may only request a home visit if you are housebound or are too ill to visit the practice. Your GP will only visit you at home if they think that your medical condition requires it and will also decide how urgently a visit is needed. Please bear this in mind and be prepared to provide suitable details to enable the doctor to schedule house calls.
Evening and Weekend GP Appointments
GP practices across Wakefield are now offering weekend and evening appointments.
The new GP Care Wakefield scheme enables patients across the district to have access to GP support after normal practice hours.
This enables patients to have access to medical advice and if required, access to a Wakefield GP appointment, through their normal GP practice telephone number between:
18:00 and 22:00hrs Monday to Friday
09:00 to 15:00hrs Saturday, Sunday and Bank Holidays
Patients who use the service will be provided with medical advice from a dedicated nursing team, who can then refer them to a GP appointment that day, if required, at one of two sites across the district.
Text Reminder Service
We have a texting service which allows you to receive confirmation and reminders about your appointments.
To have this service you will need to register by completing a consent form.
Please remember to update your contact details with us when you change address, telephone numbers and email address.